H. praestans was described by N. E. Brown in 1909 and judging from the name he gave it (praestans = outstanding; pre-eminent) he must have considered it to be something quite special. It is  recorded from a relatively small area in the western part of the Little Karoo (from Montagu to around Ladismith and Vanwyksdorp).
Up to now I only know the species from one slope with a rather dense scrub vegetation  between Hoeko and Ladismith, which is slightly east of the recorded distribution area.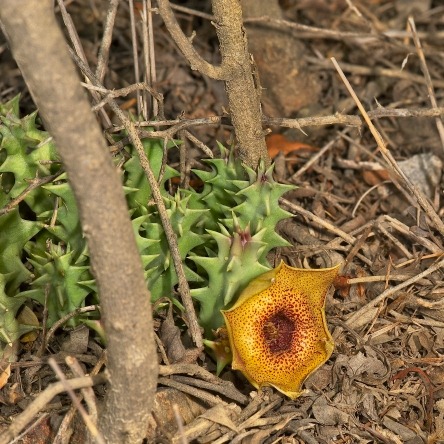 H. praestans, east of Ladismith
When I first saw the plants, I thought they belonged to the much better known H. guttata, which occupies a wide area in  the Eastern Cape and the eastern part of the Little Karoo. Its habitats from near Calitzdorp are only 40-50 kms away from the place mentioned above.
The main differences between the two species is the fact that H. guttata only has some bristles in the mouth of the tube, whereas in H. praestans they also occur on the lobes.
All in all little is known of H. praestans and it has been suggested that it is  a hybrid between H. guttata and H. barbata.  The latter has a very wide distribution area, from the Knersvlakte as far as Grahamstown in the Eastern Cape.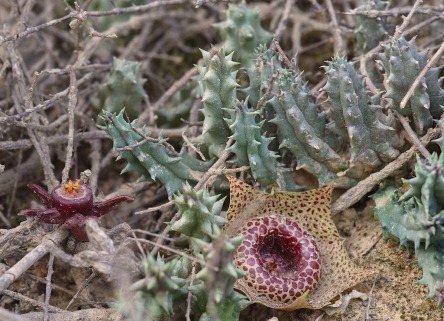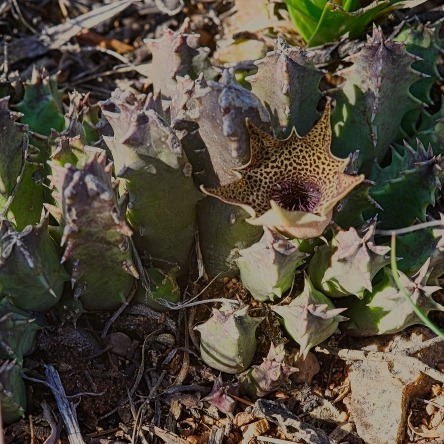 H. guttata, above (with Duvalia caespitosa) and H. barbata, Mom and Dad?