The first time a saw a plant of Pelargonium tetragonum in the wild was in the vicinity of Calitzdorp. Later on I found out that the species was rather plentiful in the area, both north and south of the village.
The plants cannot be confused with any other species, but what surprised me was the colour of the flowers.
All the many plants I had seen in cultivation had pale pink flowers with deep red stripes on the upper two petals. All the plant I saw in the wild, not just around Calitzdorp but also elsewhere, had cream flowers (with the same red stripes as in the cultivated ones).
The more I thought about this phenomenon, the more I got the idea that the plants in cultivation originated from one or a few ancestors with an aberrant flower colour.
Last months I was in the Eastern Cape looking for plants with my wife and two Belgian plant friends. While trying to find my way into a dense thicket near Uitenhage, I suddenly came across several plants of this species with beautiful pink flowers.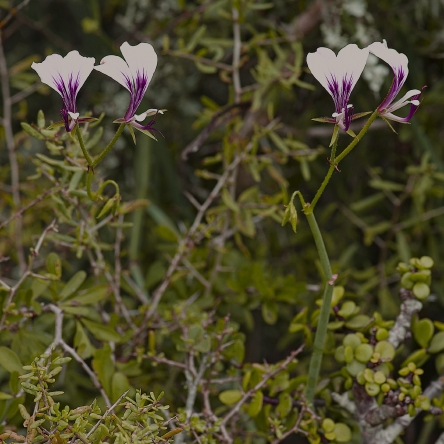 So clearly the flower colour has to do with the area where the plants grow. According to J.J.A. van der Walt in "Pelargoniums of Southern Africa" (1977) the species occurs " in a strip parallel with the coast from the Worcester-Caledon districts eastwards to Grahamstown. It has also been collected further inland near Graaff Reinet and Bedford".
In their natural habitat the plants flower from September to December.