In an earlier post I referred to a fire that raged on the nearby Rooiberg about a year ago.
Approximately half a year after the fire we discovered a great number of flowering Machairophyllums in the burnt areas.
Although there are several populations on the Rooiberg, we had never found a flowering specimen before and we wondered why that was. Had we never been there in the right time of the year and of the day (the flowers open after dark) or did the plants, like so many others occurring in fynbos, need a fire to trigger flowering?
Last Sunday we decided to visit the mountain again and see if we could find out if the Machairophyllums in the not burned areas had flowered so profusely last year as well. This is easy to establish because the fruits stay on the plants for a long time. We saw a couple of hundred plants in perfect condition, but only very few with  (max. 2-3) fruits.  If you look at the accompanying pictures (taken last October), you will see how profusely the plants flower after a fire.
All in all It seems safe to say that  this species of Machairophyllum -and probably the others too- may not be totally dependent on fire to trigger flowering, but that it certainly makes an enormous difference.
When I say "this species of Machairophyllum " you probably wonder exactly what species we are talking about here. Comparing all the information from literature, I come to the conclusion it is most probably M. albidum.  Apparently other people too have a problem deciding which is which in this genus: The Illustrated Handbook of Succulent Plants recognises 7 species but also says "The genus is under study and four or five species may only be distinguishable".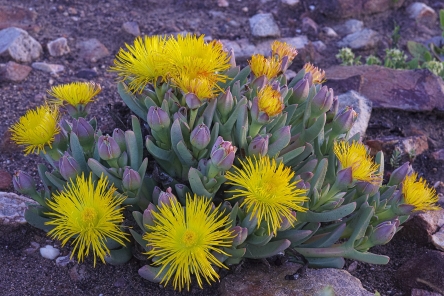 This picture was taken at 6.32 PM, when there was still just enough light to use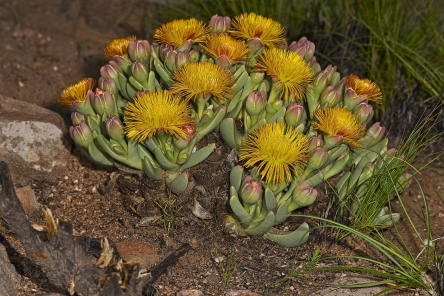 Fifteen minutes later the light had gone. so I had to use flash for this and the next two pictures