A few weeks ago my friend George Hattingh, who is about as mad about succulents as I am, told me that he had seen some beautiful succulents in flower which he could not identify. They were growing on top of the Rooiberg, a little mountain range just South of Calitzdorp which you have to cross on the way to Vanwyksdorp. As the road meanders its way up, it takes you through different vegetation zones. At the lower slopes a lot of succulents are found, whereas the plateau with its moister and colder  climate is covered in arid fynbos. In winter and early spring the fynbos is at its best, with many different plant in flower. This type of vegetation harbours only few succulents, but some of the ones that do grow there  are rather interesting. One of the plants George had found is probably an Antimima, but these I often find difficult to name. All suggestions are welcome.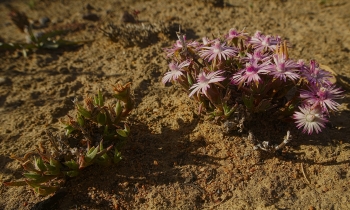 The other species was clearly a Drosanthemum, but which one? After going through the literature, the only species of which the description fitted was D. striatum.  According to the "Red List of South African Plants" (2009) this is a vulnerable species with only 10 locations remaining after much its habitat has been transformed for wheat and vineyard cultivation. The distribution range is given as: Malmesbury and Worcester to Swellendam and Bredasdorp. This is well outside the Calitzdorp area (even the nearest of these places is at least a 100 kms away). This new find means that the species has a rather wider distribution than assumed; hopefully it also means that it is less vulnerable than thought.
The peculiar thing is that we never found the plants before. The most likely explanation is that -like many other fynbos plants- they only flowers after fire. Or maybe we just missed them because they were too well hidden by all the vegetation that is normally present. Even without flowers they would have been much more visible without all kinds of other plants hiding them. At this moment (about seven months after a big fire on the mountain) large patches are still almost bare, so anything colourful stands out.
Whatever the reason, it just shows that interesting botanical discoveries can still be found in this part of the world.