When Adrian Haworth described Conophytum minimum in 1795, it was the smallest known member of the genus Mesembryanthemum (as it was back then). Hence the specific epithet.
It is a member of the section Conophytum – "The original cones and dumplings" as Steven Hammer calls them.  As in other members of this section, plants of C. minimum may vary from quite plain and dull to exquisitely marked. This variability has given rise to a long list of synonyms (26 to be exact).
The plants form rather loose mats or compact domes.
The individual bodies are conical to cylindrical, 8-15 (sometimes up to 20) mm long and 10 mm thick, elliptical in outline and with their tops usually truncate (as if cut off). They range in colour from pale green to greyish green and the tops are mottled in various degrees with dark lines and spots.
The flowers are white, pale yellow or pale pink and strongly scented. They appear in autumn (May, June). Although they are described as nocturnal, on cold days they are often open in the morning (up to 10 or 11 am)  or late afternoon.
When you want to see the plants in the wild, your best chances are in the Matjiesfontein, Laingsburg, Witteberg area, where they are often locally abundant on shale, sandstone or quartzitic rocks among lichens, often finding shelter in crevices.
The photos in this post and the following two ones, are arranged chronologically so as to give you an idea what the plants look like in different times of the year.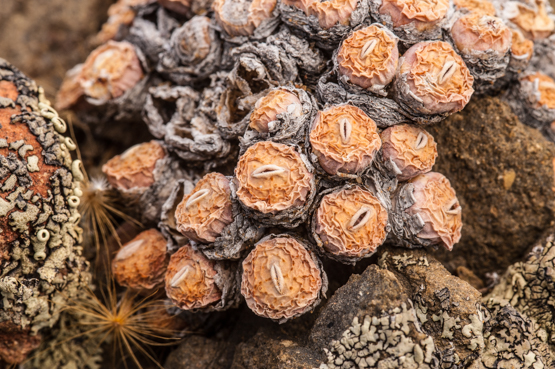 Picture taken 29 Jan. 2012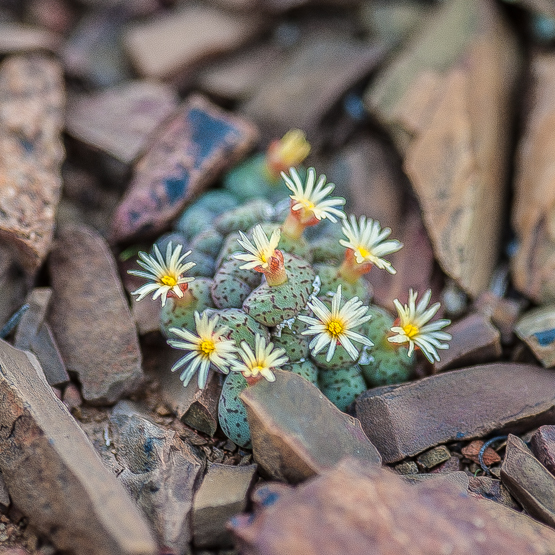 Pictures taken 6 May 2009, around 5.40 PM